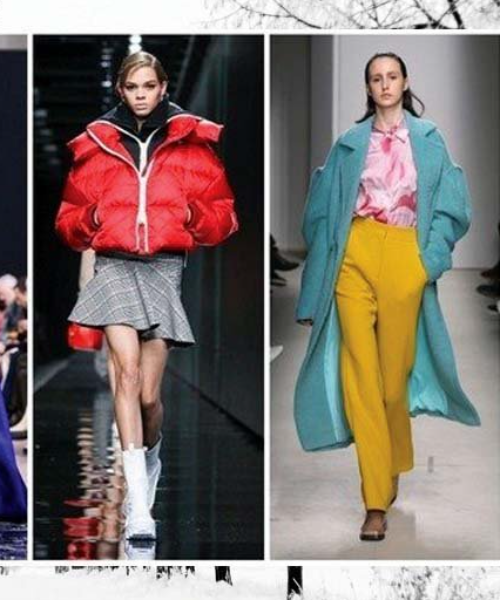 Here's what's trending this Fall and beyond
---
Every season has its own colour palette with a blend of trendy shades. From dark hues to neutrals each colour palette can be used to create unique outfits. This season's colour trends can be defined as a combination of festive energy and fresh classics.
Get a jumpstart on some of the colour trends to stay on trend
Blue Depths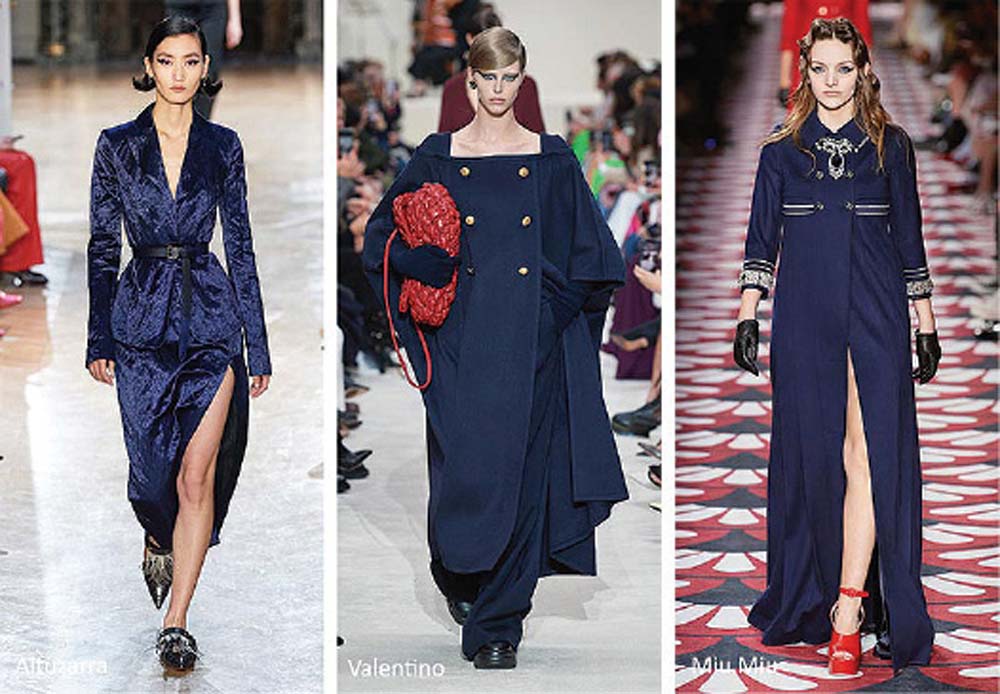 This beautiful shade of blue is deep yet cool, blue depth is as vivid as navy blue. When we think of blue depth, the ocean is one example that comes to mind. It is calm, mysterious and has depth which makes it an ideal choice to wear in the evenings.
You can opt for a silk satin camisole dress in this shade of blue or a corduroy suit would be the perfect choice. You can pair it with your choice of accessories. Keep your look refined and impactful. If you want to be playful, a colourful handbag or dramatic lips would do just the trick.
Asphalt Grey
If you prefer darker colours especially in winter then you might love asphalt grey. Asphalt grey is a deeper shade of grey with a touch of charcoal grey. Paired with a softer grey shade, this asphalt grey is a is very popular for coats and capes.
With this perfect shade of grey you can easily play with different silhouettes and trends. Oversized sleeves are a continuing trend this season. Opt for a fitted dress with oversized sleeves or style your look with a smart cut blazer/suit or a long coat with a cinched waist.
Pear Green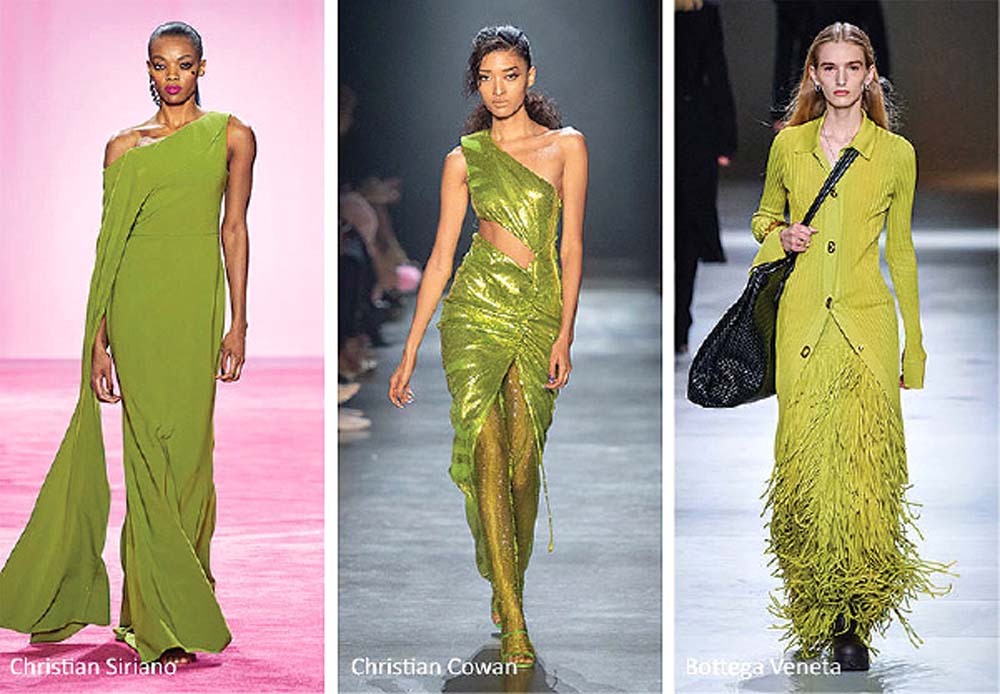 As the name suggests, pear green shade is fun, vibrant and juicy! It is an instant mood lifter, it's a beautiful shade of green which lies amidst military olive aka army green and green sheen. This ought to be one of the brightest and happiest colour trends of fall/winter 2020/2021. It may be a more popular choice for summer, but pear green is here to brighten your gloomy winter days!
You can opt for an elegant cocktail dress or a co-ord set such as an elongated button-up cardigan matched with a heavily fringed maxi skirt.
Sheepskin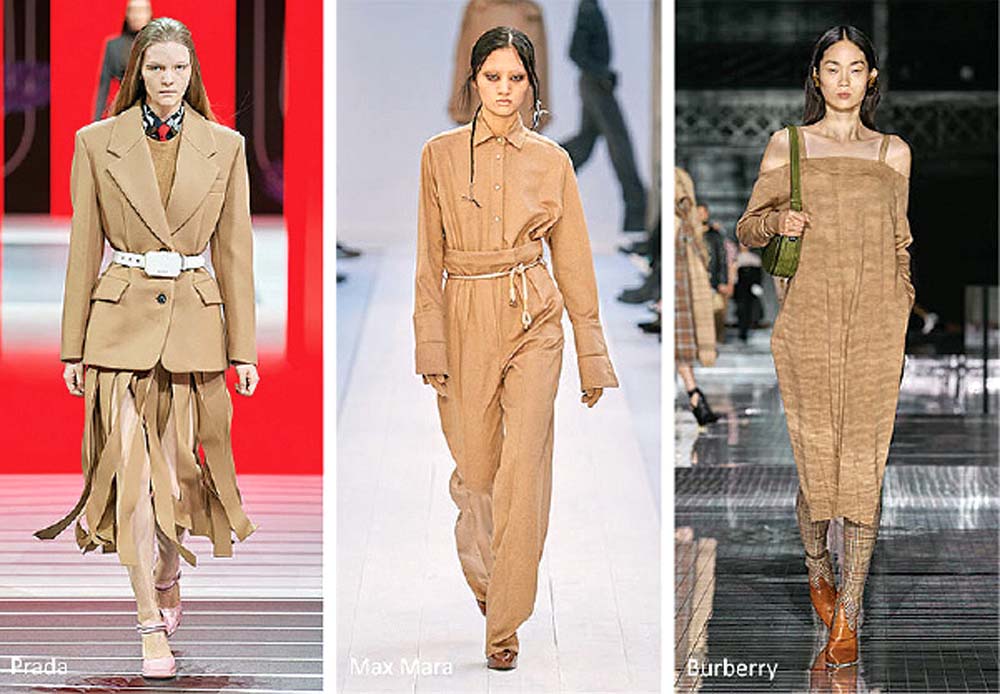 Sheepskin is a pale pinkish camel hue that is among one of the popular neutral colours for fall/winter 2020/2021. This colour is fleecy, soft and delicate which brings to mind luxurious cashmere or cosy fleece or pure satin.
You can give your look a twist by opting for some gunmetal chain jewellery or keep it subtle by opting for dainty accessories.
---
---
POPULAR DESIGNERS
---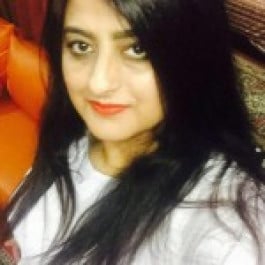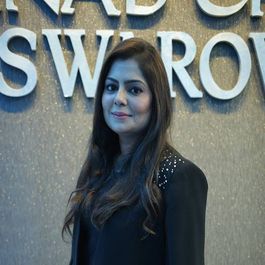 Zainab Chottani
One of the well known designers in Pakistan for bridal wear and has displayed her creations in Pakistan as well as in Dubai, USA and London.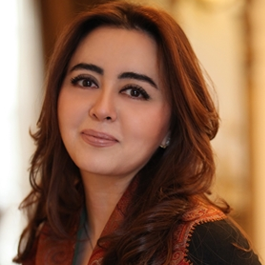 MARIA. B
MARIA. B is additional amongst best Pakistani Fashion designers
---